Bozzano Olive Oil – the freshest, certified organic Extra Virgin Olive Oil, exclusively at Kanon Gallery.
The Bozzano family has a history of farming in California dating back more than 4 generations. It began in Italy, where the small family farm produced olives and olive oil for the community. When 15-year-old Lino Bozzano emigrated to Stockton, CA, he brought that tradition with him. He planted tomatoes, founding what would in time become the American branch of the Bozzano family farm.
In later years, the Bozzano family replaced their tomato crop with cherries, and in January 2007 the focus switched again to olives and olive oil. In four generations the Bozzano farm has come full circle, from a small olive farm in Italy to the expansive olive ranch it is today.

Bozzano is the MOST AWARDED organic olive oil producer in the Nation.  With 36 total awards in 2015!
Italian Blend A2 – EVOO
Bozzano's most awarded EVOO. This oil is a grassy, herbaceous blend of Ascolano and Arbequina olives, with a big fruit finish of peaches and apricots

Great for fish or chicken dishes. Excellent drizzled over soups or dipping a big chunk of baguette

Certified 100% EVOO by the California Olive Oil Council 

nonGMO, Raw, Gluten Free

This oil is as fresh as you can get, milled during our last harvest October – December

Tasted & blended by Joe Bozzano & Dewey Lucero

AWARDS:

Gold – Fresno County Competition 2016
Best in Show and Gold – Yolo County 2016
Best Of Show – Big Fresno Fair San Joaquin Olive Oil Competition 2015
Gold – COOC Olive Oil Competition 2015
Gold – California State Fair Olive Oil Competition 2015 (inaugural year!)
Silver – LA County FairOlive Oil Competition 2015

Bosana Organic EVOO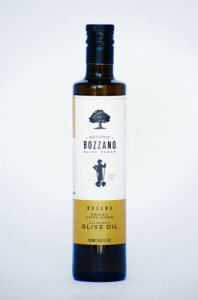 The Bosana variety is originally from the island of Sardinia, Italy. This sophisticated oil is an explosion of fresh herbs, grassy notes, and ripe peaches. Enjoy the big pepper finish

Great for chicken or pork dishes. Will add a zing to fish dishes like salmon or halibut

100% hand harvested in the California San Joaquin Valley

Certified 100% Organic by Global Culture and the USDA

Certified 100% EVOO by the California Olive Oil Council 

nonGMO, Raw, Gluten Free

This oil is as fresh as you can get, milled during our last harvest October – December

Tasted & blended by Joe Bozzano & Dewey Lucero
Gold – New York Int'l Olive Oil Competition 2015 (named one of the best olive oils in the World!)
Gold – Napa Valley County Fair Olive Oil Competition 2015
Silver – Yolo County Fair Olive Oil Competition 2015
Silver – LA County Fair Olive Oil Competition 2015
Silver – COOC Olive Oil Competition 2015
Silver – California State Fair Olive Oil Competition 2015 (inaugural year!)
Silver – Big Fresno Fair San Joaquin Olive Oil Competition 2015 (inaugural year!)
Coratina Organic EVOO
A famously robust oil from Puglia, Italy. This is our highest polyphenol count oil. It has a distinct grassy bouquet, with a fresh floral aroma and BIG pepper kick—love the burn

Our highest polyphenol count oil this year!

Great for adding a pepper kick and strong olive flavor to any dish

100% hand harvested in the California San Joaquin Valley

Certified 100% Organic by Global Culture and the USDA

Certified 100% EVOO by the California Olive Oil Council 

nonGMO, Raw, Gluten Free

This oil is as fresh as you can get, milled during our last harvest October – December

Tasted & blended by Joe Bozzano & Dewey Lucero
Award-winning, and our best "everyday" organic olive oil. This oil boasts strong olive flavor and is well balanced by delicate fruit notes. Made with Maurino, Leccino, Frantoio & Pendolino olive varieties

Drizzle generously on grilled meats and vegetables. Use as a base for bold salad dressings

100% hand harvested in the California San Joaquin Valley

Certified 100% Organic by Global Culture and the USDA

Certified 100% EVOO by the California Olive Oil Council 

nonGMO, Raw, Gluten Free

This oil is as fresh as you can get, milled during our last harvest October – December

Tasted & blended by Joe Bozzano & Dewey Lucero
Silver – Fresno County Competition 2016
Silver – COOC Olive Oil Competition 2015
Silver – Yolo County Fair Olive Oil Competition 2015
2017 Awards
LA County Fair Olive Oil Competition:2017
• Bosana Organic- Silver
• A2- Gold 
Napa Valley County Fair Olive Oil Competition:2017
• A2- Bronze
• Bosana Organic- Bronze 
Yolo County 2017
• Bosana Organic- Bronze 
• Arbequina- Silver
• Toscana- Silver 
Big Fresno Fair San Joaquin Olive Oil Competition 2017
• Bosana Organic- Gold
• Toscana Organic- Silver 
• A2- Silver 
California Olive Oil Council (COOC) Olive Oil Competition:2017
• Arbequina- Silver
• Bosana Organic- Bronze
• A2- Silver
New York International Olive Oil Competition:2017
• Toscana Organic- Silver 
California State Fair Olive Oil Competition:2017
• A2- Gold 
• Toscana- Silver 
• Bosana Organic- Silver 
2016 Awards
Fresno County:2016
• Toscana- Silver
• A² – Gold
Yolo County 2016
• A²- Best in Show and Gold
• Taggiasca- Gold
Napa Valley County Fair Olive Oil Competition:2015
• Ascolano – Best in Show/Gold
• Bosana – Gold
• Coratina – Gold
• Manzanillo – Silver
• Triple A (Miller's Blend) – Bronze

New York International Olive Oil Competition:2015
• Bosana – Gold (out of 649 entered oils – named one of the best olive oils in the World!)
California Olive Oil Council (COOC) Olive Oil Competition:2015
• A2 – Gold
• Ascolano – Gold
• Manzanillo – Gold
• Bosana – Silver
• Coratina – Silver
• Toscana – Silver
• Triple A (Miller's Blend) – Sliver
LA County Fair Olive Oil Competition:2015
• Manzanillo – Best In Class/Gold
• A2 – Silver
• Coratina – Silver
• Bosana – Silver
Yolo County Fair Olive Oil Competition:2015
• Manzanillo – Silver
• Ascolano – Silver
• Italian Blend (A2) – Bronze
• Generations – Silver
• Miller's Blend (Triple A) – Silver
• Toscana – Silver
• Bosana – Silver
• Coratina – Silver
California State Fair Olive Oil Competition:2015
• Organic Coratina – Gold
• Italian Blend A2 – Gold
• Organic Bosana – Silver
• Manzanillo – Silver
• Ascolano – Silver
Big Fresno Fair San Joaquin Olive Oil Competition 2015
• Italian Blend A2 – Best of Show / Gold
• Organic Bosana – Silver
Paso Robles Olive Oil Festival Competition 2015
• Italian Blend A2
2011


A²


  • Voted Best U.S.A. Oil

Toscana


   

2010

A²


• Gold Medal – Yolo County Fair




• Gold Medal – California Olive Oil Council


Toscana


• Silver Medal – Yolo County Fair




• Silver Medal – California Olive Oil Council


Generations


• Gold Medal – Yolo County Fair




• Gold Medal – California Olive Oil Council

2009


A²


• Gold Medal – Yolo County Fair


Toscana


• Gold Medal – Yolo County Fair


Generations


• Silver Medal – Yolo County Fair

2008


A²


• Gold Medal – Yolo County Fair




• Gold Medal – Las Vegas Restaurant Competition




• Gold Medal – L.A. County Fair




• Best of Class – L.A. County Fair


Toscana


• Gold Medal – Yolo County Fair




• Gold Medal – Las Vegas Restaurant Show




• Silver Medal – L.A. County Fair

CERTIFIED EXTRA VIRGIN OLIVE OIL


www.oliveoilsource.com




www.olives101.com




www.olivecenter.ucdavis.edu




www.cooc.com
p: 405·601·3091